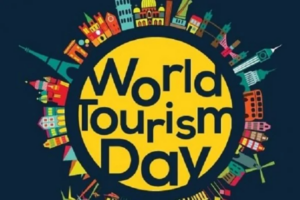 World Tourism Day was celebrated in Ada under the sponsorship of the Ministry of Tourism, Arts, and Culture with the theme "Tourism and Green Investments."
The subject emphasizes on green investment as a stimulus for socioeconomic growth of the economy and sustainable tourism development.
Industry leaders from the public and commercial sectors, as well as representatives from academia, traditional leaders, and the diplomatic corps, were in attendance at the event.
"While the 43rd anniversary of World Tourism Day celebration has the power to inspire, connect, and enrich lives, this year's theme "Tourism and Green Investment" however, goes beyond celebration but a call to action, to rethink tourism as a force for positive change, a catalyst for progress," Dr. Kwesi Eyison, Vice President of the Ghana Tourism Federation and an affiliate member of the United Nations World Tourism Organization (UNWTO), said in his address on behalf of the private sector
He said that it is urgently necessary to reevaluate and modify the way that tourism and hospitality are approached, acknowledging the crucial role that sustainability and green investment will play in determining the direction of the sector in the future.
He went on to list recent statistics that demonstrate the tourism industry's consistent growth over time, contributing significantly to Ghana's economy and creating countless employment opportunities. However, he cautioned stakeholders that now is the time for the country to reconsider its tourism and hospitality policies, as well as its approach to climate change, environmental degradation, and the depletion of natural resources, which are some of the major global challenges that require immediate attention.
Dr. Eyison continued, "We must embrace marketing and promotions sustainably, advocate for policies and regulations that encourage green investment in tourism, invest in research and innovation to find novel solutions to the problems facing our industry, collaboration between public, private, and academia, and a continuous partnership by fostering key collaboration among all stakeholders—government, industry, NGOs, communities, and others.