The Ghana National Theatre will host the yearly Ghana Theatre Festival, which will start on Tuesday, September 26, and end on Sunday, October 1. "Celebrating Ghanaian culture and heritage through partnerships and linkages" is the topic of this year's event.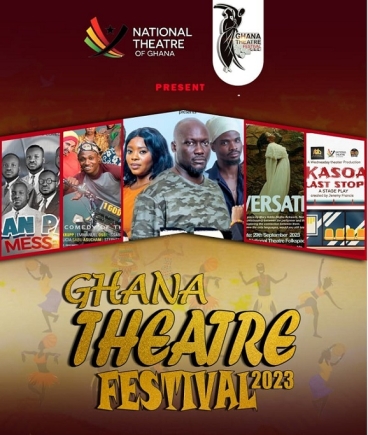 The upcoming Ghana Theatre Festival is intended to highlight the works of various artists and performing art ensembles in Ghana by providing them with a venue to showcase their creations and talents and to advance their theatrical production skills.
The Arts Festival also hopes to attract a devoted audience for performances at the National Theatre by providing prospective theatregoers with a wide range of high-calibre productions at reasonable prices.
A school theatre programme (Son of Umbelle), a fashion display, a film presentation, stand-up comedy, dramas, and an art exhibition showcasing genuine artifacts and other made-in-Ghana products are among the events planned for the Ghana Theatre Festival. Other activities include "GHROBICS", an aerobic activity done while performing traditional dances combined with drumming and music for a total body workout to increase physical fitness and general well-being. GHROBICS also aids in the development of conventional dance and movement techniques.
Efu Pᴐnkᴐ a performance by all three National Theatre resident groups—National Dance Company, National Symphony Orchestra, and National Drama Company—will open the festival on Friday, September 29 at 19:00.
Agape Arts Production, 2 Idiots Production, Ghana Academy of Films and Television Arts, EN Academy, Addis Dance, 2 Cute Entertainment, Robdy's Production, and Visual Arts Students Empowerment Project are additional organisations taking part in the festival.
According to Joyce Bekoe, the National Theatre's public relations officer, the festival's productions aim to promote admirable national values. She said, "The National Theatre's efforts to fulfill its purpose to nurture and promote the performing arts in Ghana are included in the yearly Ghana Theatre Festival.