Bobiri Butterfly Sanctuary is a protected area and nature reserve located in the Ashanti Region.The butterfly sanctuary is well-known for its wide variety of butterfly species and its lush tropical rainforest setting.
The sanctuary, which is a smaller portion of the larger Bobiri Forest Reserve, has a size of around 54 square kilometers. It was founded in 1980 with the intention of preserving the distinctive biodiversity present within the forest ecosystem, particularly the local butterfly species. The Forestry Commission of Ghana oversees the sanctuary.
The astounding variety of butterflies at Bobiri Butterfly Sanctuary is one of its key draws. More than 400 distinct species of butterflies, including rare and endangered ones, call it home. Visitors have the chance to see these vibrant insects fluttering over the trees and flowers in their natural environment. Thanks to the sanctuary's extensive forest cover, diverse plants, and plentiful nectar sources, butterflies can thrive there.
The refuge is also home to a vast variety of other flora and species in addition to butterflies. Tall trees, thick undergrowth, and a system of routes that let people explore the region are the features that make up the forest. Towering hardwoods, orchids, ferns, and a variety of medicinal plants are among the rich plant life. Numerous bird species, including as hornbills, turacos, and forest-dwelling raptors, are visible to birdwatchers.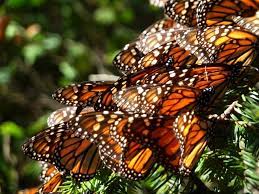 The Bobiri Butterfly Sanctuary has created well-maintained walking routes and bridges that cross across the forest to improve the visiting experience. These pathways provide you the ability to get up close and personal with butterflies, learn about the forest environment, and take in the surrounding area's natural beauty. Along the trails, educational signboards offer details on the sanctuary's flora, animals, and conservation initiatives.
Guided tours are available for visitors, allowing them to learn about the butterflies, their life cycles, and their ecological significance. Knowledgeable guides offer valuable information and can assist in spotting different butterfly species, enhancing the overall experience. The sanctuary also houses a small visitor center where educational materials and exhibits are displayed, providing further insights into the world of butterflies and the importance of conservation.
Visiting the Bobiri Butterfly Sanctuary offers a unique opportunity to connect with nature, immerse oneself in a tropical rainforest environment, and appreciate the delicate beauty of butterflies. It is worth noting that specific details about visitor facilities, entrance fees, and operational hours may change over time, so it is advisable to consult up-to-date sources or contact local authorities before planning a visit.