Exhibition by Kwame Akpokavi
November 8
@
6:30 pm
–
December 20
@
5:00 pm
Hail Mama Full of Grace About the Artist and his Work

Kwame Alorlete Akpokavi is a contemporary artist known for his unique style and philosophical approach that explore themes of identity, spirituality, and the human condition. His works often convey a sense of transcendence and the search for meaning beyond the material world. He incorporates symbols and imagery associated with spirituality, such as sacred geometry and celestial bodies, to evoke a sense of awe and wonder.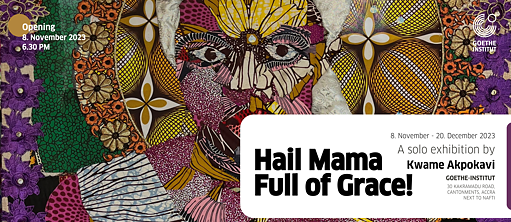 Overall, Kwame Alorlete Akpokavi's art is a fusion of vibrant colours, intricate patterns, and philosophical depth. His unique style and approach invite viewers to contemplate their own identities, cultural heritage, and spiritual connections, making his art a powerful medium for self-reflection and exploration.
Kwame Akpokavi's new solo exhibition, titled "Hail Mama Full of Grace!", showcases a captivating collection of collages made entirely out of African prints. In this series, Akpokavi explores the rich cultural heritage of Africa through the medium of fabric, creating visually stunning and thought-provoking artworks.
The collages in this exhibition are meticulously crafted, with African prints carefully selected and arranged on canvases. Akpokavi employs a technique of gluing and hand stitching the fabric onto the surface, creating a textured and layered effect. This process not only adds depth and dimension to the artworks but also pays homage to the traditional African art of textile design and craftsmanship.
Each collage in "Hail Mama Full of Grace!" tells a unique story, drawing inspiration from African folklore, spirituality, and everyday life. Akpokavi's choice of African prints, with their vibrant colours and intricate patterns, adds a sense of energy and vitality to the compositions. The juxtaposition of different fabrics creates a visual dialogue, symbolizing the diversity and interconnectedness of African cultures.
Through this collection, Akpokavi celebrates the strength and resilience of African women, often referred to as "Mama" in many African cultures. The title of the exhibition, "Hail Mama Full of Grace!", is a tribute to the nurturing and empowering role that women and 'AsarsiYaa' (mother earth ) play in African societies. The collages depict women in various settings, embodying grace, wisdom, and beauty.
"Hail Mama Full of Grace!" is a testament to Kwame Akpokavi's artistic vision and his commitment to exploring and celebrating African culture. Through his skilful use of African prints, he creates a visual feast that engages the senses and sparks conversations about identity, the environment, heritage, and the power of art to connect people across cultures. This exhibition is a must-see for art enthusiasts and anyone interested in the vibrant and diverse world of African art.